Abstract
At the first step and once forever, Ripple is the company behind the XRP coin, and Ripple Labs created and Developed the Ripple network and its native token XRP in 2012. It is an Open-Source technology and a prominent antagonist for Bitcoin; however, we can't compare the Price of XRP with the BTC Price. For your information, until the time of writing this article, its market cap size is approximately 22 times smaller than Bitcoin.
Introduction
XRP is a digital asset created in 2012 specifically for payments and is XRP Ledger's native token. The XRP Ledger is a decentralized open-source, and permissionless blockchain. XRP settles transactions on the ledger in less than 5 seconds to become a better version of Bitcoin, which is faster, greener, and has lower network fees than other digital assets; their website at xrpl.org claims so.

Ripple, Ripple Labs, RippleNet, and XRP
Ripple is the parent company behind the XRP project. XRP Labs created and developed RippleNet and the XRP Ledger, which uses open-source technology to conquer Bitcoin in transaction speed. In the transaction speed and network costs case, XRP challenges financial institutions, including banks.

RippleNet
RippleNet is Ripple's cross-border payment network and a decentralized global network enterprise that uses the XRPL. However, it does not necessarily need XRP but uses XRP for faster transactions across the globe. It allows providers to use Ripple's distributed financial technology. It provides real-time messaging, clearing, and settlement for financial transactions. RippleNet is a blockchain that helps financial institutions like banks or exchanges settle transactions such as remittance payments or exchanging currencies.

XRP for Ripple
XRP is Ripple's network financial instrument. To be precise, Ripple has a definitive number of XRP in rotation, about 100 billion tokens. RippleLabs releases These tokens. XRP works because no mining is involved; all coins are pre-mined, so trading XRP is easy and with the lowest possible transaction costs, making XRP one of the most popularized coins in the market.

What is XRPL?
The XRP Ledger, known as XRPL, is a decentralized public blockchain. It's highly reliable, has considerable transaction speed, and is energy-efficient. Easy development, low costs, and a well-recognized community make a suitable space for developers with a solid open-source basis for performing the most demanding projects with keeping the ecosystem safe and secure.
What motivates developers to choose XRPL?
It is based on Open-source technology, enabling anyone to build on and maintain the community.
Tools and documentation that ease and speed up development and reduce time to market or products.
XRPL is capable of settling thousands of transactions in a few seconds.
XRPL services are inexpensive enough, which allows a wide variety of use cases.
A suitable environment for businesses, users, validators, and developers to improve the XRP Ledger's ecosystem.
Close to a decade of consistent performance and more than 60,000,000 ledgers.
XRP
Users can directly send XRP without needing a central intermediary like banks or financial institutions, which makes it a suitable instrument for bridging two different currencies faster and more efficiently. It is freely exchanged on the open market and used in the real world to enable cross-border payments and microtransactions.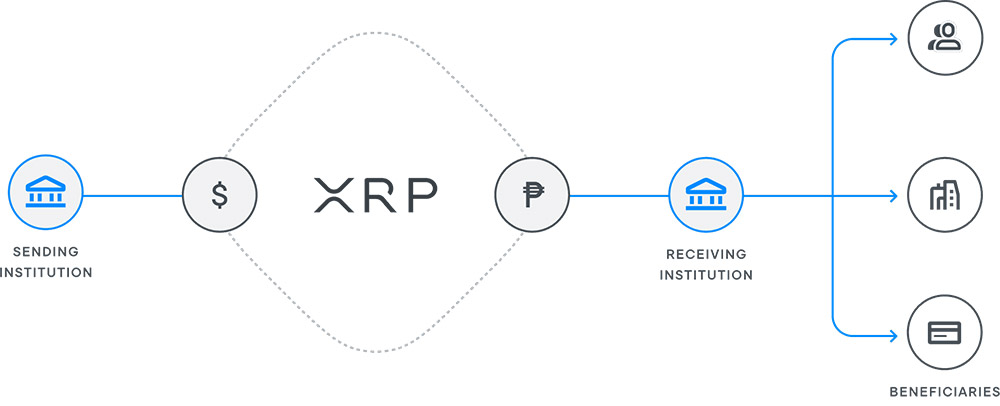 The Trading Advantages of XRP
Traders can enjoy XRP's low transaction fees, reliability, and high-speed characteristics. Except for mentioned privileges, XRP is reliable collateral that provides traders with seizing arbitrage opportunities, servicing margin calls, and managing general trading inventory in real-time.
Because of the ecosystem's natural properties and XRP, traders can shift collateral, bridge currencies, and switch from one crypto to another almost instantly across any exchange, whenever they want, and wherever they are across the globe.                 
What wallets support XRP?
Software Wallets:
Hardware Wallets:
The Biggest XRP Holder
According to CoinCarp data published on 12 August 2022, Binance holds more than 35% of the existing XRP tokens.
xRapid
"xRapid" is a liquidity solution for banks and companies like Euro Exim Bank, Bittrex, Bitso, Bitstamp, Cuallix, SendFriend, and Bitrue that use XRP as a bridge currency. It eliminates delays in global payments while dramatically lowering costs and makes cross-border payments instantly and inexpensive.
xVIA
xVia is a standardized payment interface for RippleNet. In other words, xVIA is a network for financial institutions that use xCurrent or xRapid to settle payments designed for corporations. xVia enables financial institutions, exchanges, payment providers, and banks who want to send payments or track payments across various networks. It also allows users to generate invoices for their transactions which supports more currencies than XRP. Still, it could be an option for users of this network.
xCurrent
xCurrent is a software solution launched by Ripple's enterprise that instantly lets banks settle cross-border payments with end-to-end tracking. Using xCurrent, banks message each other in real-time to confirm payment details before initiating the transaction and confirming delivery. Using XRP on xCurrent has apparent advantages over other supported cryptocurrencies, such as quicker performance with fewer costs.
---
Conclusion
Ripple is a technology company that is the parent company of XRP. It makes building high-performance, global payment systems for projects and businesses easier, except that XRP has complete independence from the parent company.
The XRP Ledger founders gave 80 billion XRP to Ripple, the ecosystem's native currency, and Ripple has locked 55 billion XRP (55% of the total possible supply) for controlling the market into a series of escrows using the XRP Ledger. The XRPL's transaction processing rules, enforced by the consensus protocol, control the release of the XRP.