Abstract
The most crucial feature of DEXes is their decentralization, which means that each person manages all transactions, and no third parties or entities supervise them. It makes more users willing to use decentralized exchanges (DEX), so the volume of transactions of these crypto exchanges has already peaked in 2021.
One of the reasons why users choose centralized exchanges is the possibility of future open positions. The GMX platform is one of the decentralized exchanges that has provided this possibility to its users. In the following, we will answer the question about the GMX platform and how it works.
Introduction
GLP is a DEX platform which one of the best and the most innovative approaches in this market section. GLP in 2021 launched on the Arbitrum network and then on Avalanche in 2022. By using DEXes, users can make perpetual contracts and increase users trading ratio up to 30 times or use 30X leverage

What is the GMX Platform?
GMX is a decentralized transaction platform with low fees and zero Price Impact that allows its users to make perpetual contracts. Users can increase their trading ratio up to 30 times or use 30X leverage.
The GMX platform launched on Arbitrum in 2021 for the first time, and then the Avalanche network joined in 2022. A multi-asset liquidity pool funds transactions in GMX. The reward of the liquidity providers of these pools comes from market makers, swaps transactions, and leveraged transactions.
What is the Purpose and Idea of the GMX Platform?
As mentioned earlier, the GMX platform is one of the three decentralized platforms for leveraged trading. The purpose of this platform is to enable frequent transactions for users. The GMX Decentralized exchange covers the need of its users for Centralized exchanges for leveraged trades.
How Does the GMX Platform Work?
Traders can perform swaps with zero price impact in the case of spot trading. GMX DEX uses Chainlink oracles and FTX and Binance data for price in liquidity pools, so there is no need to pay slippage. Liquidity providers are the other side of transactions, those who rent their assets to traders and receive 70% of the transaction fee in the form of GMX token, which is the native token of the network.
GLP is another token of this platform. GLP is the liquidity token of the GMX platform and is a combination of several assets. When users buy the GLP token, they are purchasing a basket of these combined assets, and in a way, they are providing the liquidity of these currencies for traders.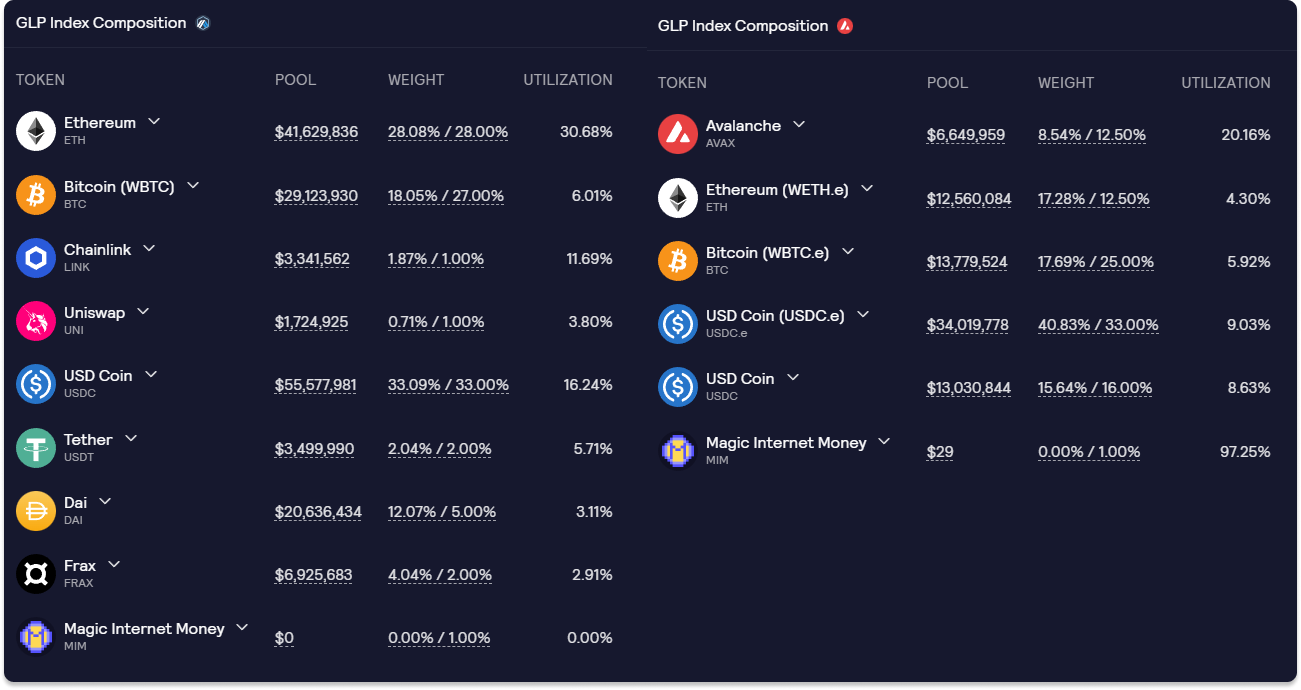 GLP Index Composition on Arbitrum
Ethereum (ETH) — 28%
Bitcoin (WBTC) — 16%
Chainlink (LINK) — 2%
Uniswap (UNI) — 1%
USD Coin (USDC) — 43%
Tether (USDT) — 0.5%
Dai (DAI) — 7%
Frax (FRAX) — 2.5%
 GLP Index Composition on Avalanche
Avalanche (AVAX) — 10%
Ethereum (WETH) — 12%
Bitcoin (WBTC) — 17%
USD Coin (USDC.e) — 31%
USD Coin (USDC) — 30%
GMX is the native token of this ecosystem, and 30% of each transaction fee delivers to users who stake as a reward. GLP is also the liquidity token of this platform.
The remaining 70% of each transaction goes into the account of GLP token holders. This way, 100% of the transaction cost of this platform is shared among holders.
Referral
To create a referral code:
Click on the Affiliates tab
Create a referral code using any combination of letters, numbers, and underscores
Please note: Referral codes are case-sensitive, which means Arbitum and Avalanch must create and verify the user's code to earn rebates on the mentioned networks.
GMX Blueberry Club NFT Collection
GMX Blueberry Club NFT collection contains 10,000 NFTs on the Arbitrum network. These NFTs will go to GMX token stakers as rewards.
Tokenomics:
6 million GMX from the XVIX and Gambit migration.
2 million GMX paired with ETH for liquidity on Uniswap.
2 million GMX reserved for vesting from Escrowed GMX rewards.
2 million GMX tokens to be managed by the floor price fund.
1 million GMX tokens reserved for marketing, partnerships, and community developers.
250,000 GMX tokens distributed to contributors linearly over 2 years.
---
Conclusion
The GMX exchange is one of the biggest decentralized exchanges for perpetual trading. In addition to spot transactions, this exchange has provided leveraged trading, and user can increase their purchasing power up to 30 times.