For the first time in history, In January 2019, Binance introduced a new project for selling tokens and increasing funds which we call that LaunchPad today. Binance approves a project to sell tokens with probable requirements that nowadays it is known as IEO among investors.
What is a launchpad?
Launchpad is a platform for launching new tokens. Launchpad helps projects increase their funds for further developments in the crypto sphere. Binance Exchange laboriously reviews these projects before being introduced on the LaunchPad platform. Users and investors can also buy project tokens before they are listed on Binance and profit after being listed at the exchange and selling tokens.
How to apply and participate in IEO Binance
This article will investigate how to register and participate in Binance LaunchPad projects.
In the beginning, interested people should sign up for an account on Binance and then log into the Binance account, which is the first step toward the Binance LauncPad.
After logging in to the account, they must enter the Binance website and select the Earn section's Launchpad option. You can then see a list of available projects in the middle of this page.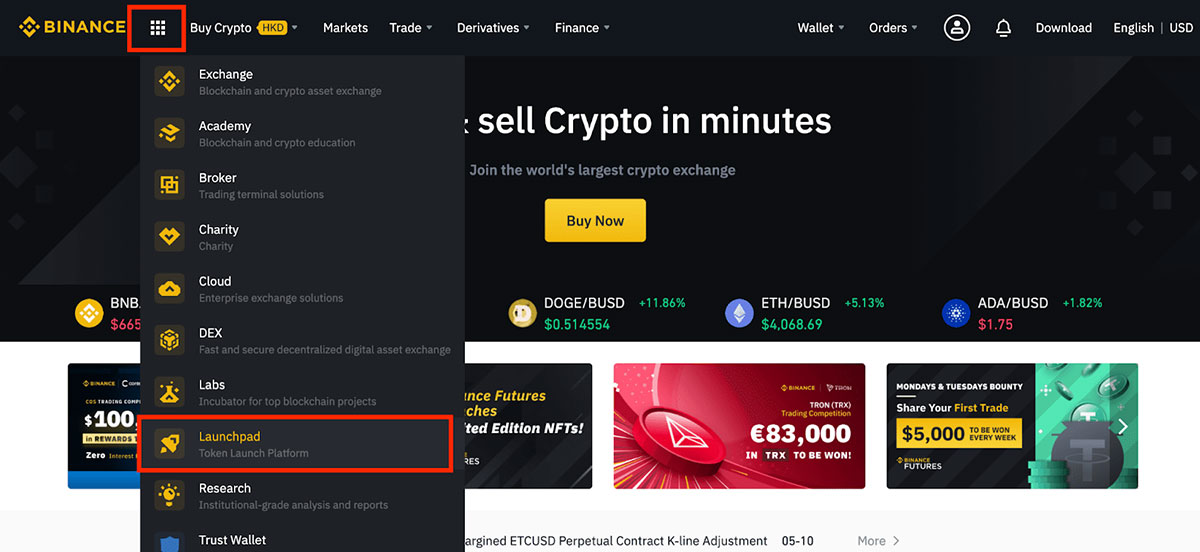 There is a list of projects on the left side of the web page that will enter the phase where they present the relevant tokens for sale. There is a summary of necessary and functional information, including the total supply, volume, and start date.

Also, clicking on any presented projects leads the user to the information page. General information such as fundraising event, including price, start time, supply amount, day and time of project start, and more.
There are three steps to get involved, as mentioned below:
Step 1
The first thing users need to do is determine the amount of capital they want to invest in the launchpad.
The Volume of the capital depends on their average BNB balance. The calculation of this average is pre-determined and usually takes a few days; they have to be patient to keep coins in the balance for a few days. The average deposited amount and the days BNBs deposited in their account determine the participation capacity. During this period, you should not stake or trade BNBs.
Step 2
After this specified period, participants must commit their coins to buy new tokens.
Step 3
the final step involves deducting some BNBs. This amount will be deducted from the deposited number of BNBs to purchase new coins, and the remaining number of BNBs and newly purchased tokens will appear in their (Binance) Spot account.
The Advantages of Binance LaunchPad?
The Binance Launchpad lets everyone buy Tokens, and it is one of its advantages!
As Binance Exchange carefully selects projects for its LaunchPad, users can easily rely on the Binance LaunchPad option, another tremendous advantage of the Binance LaunchPad.
Joining and using the Binance LaunchPad is easy, even for newbies. They can quickly sign up, sign in and participate in selling tokens on Launchpad.
There is another incredible prospect for projects to grow. The first buyer of these tokens can take advantage of this opportunity and sell tokens at a higher price when listed in the Binance exchange.
---
Conclusion
Participating in Binance Launchpad projects is almost straightforward. The only action participants need to take is to gather enough information and increase their knowledge about the broad range of projects. Nevertheless, Binance has made everyone effort to ensure that all users can participate in the projects they wish!