In the late 2000s, when Satoshi Nakamoto first unveiled Bitcoin based on blockchain technology, he probably hadn't estimated that the revolutionary economic changes could be a side product of the blockchain network. Besides, the primary outcome is Blockchain itself and the privileges and solutions that industries, service sections, and markets can be delighted with and help raise many new beneficial movements globally.
Phantasma and its Goals
Phantasma chain is a fast, secure, and scalable blockchain solution that allows you to work with other blockchains while maintaining a decentralized system of government.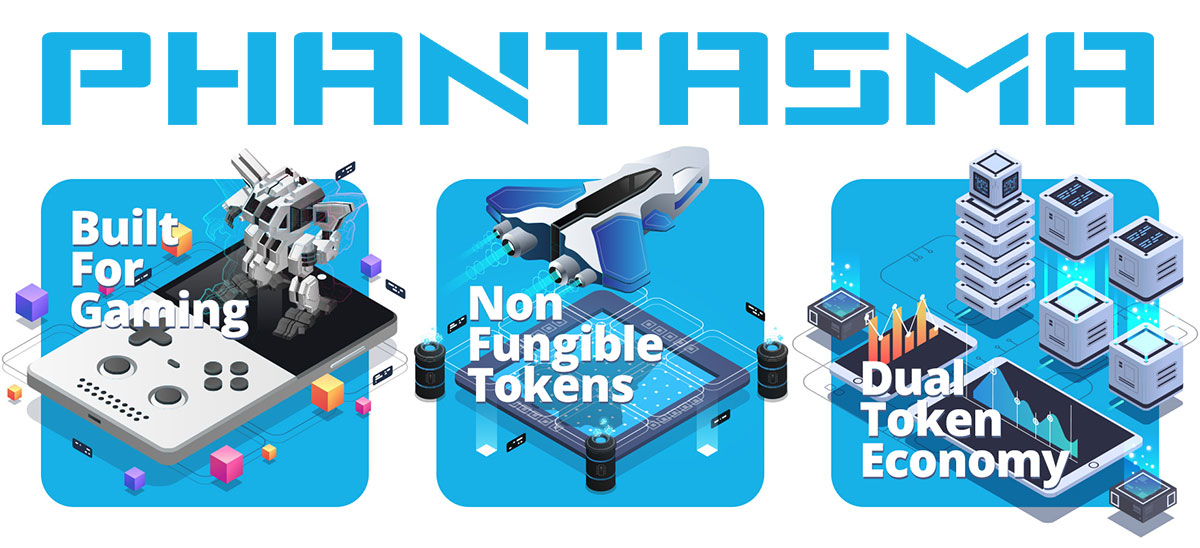 Phantasma has attracted the attention of many decentralized projects and applications (DApp), especially in non-proxy tokens and games with its innovations and capabilities. This project has an innovative staking mechanism and a system that includes two tokens that give users access to various digital goods and services in the fields of communications, entertainment, marketplace, and storage space.
Interoperability is critical in today's digitalized world, in which blockchain plays the leading role in our lives. Users were limited to one blockchain network in the past, and communicating with other blockchains was almost impossible. Phantasma currently interacts with the Ethereum and the Neo Blockchains thanks to bridges, smart contracts, and oracles; this chain also supports an unlimited number of side chains.
Due to its capabilities, Phantasma has attracted much attention in games and unique tokens. These days, blockchain games and NFTs, which also provide the opportunity to earn, are among the trends in the blockchain world. This project, and its partners, seek to create a Steam blockchain that is wholly integrated with the original version.

Steam is a platform for selling digital games and multiplayer games. Phantasma aims to create an ecosystem of decentralized programs that people want to use and operate under the same economic system.
Phantasma's Services
While visiting the Phantasma website, there is a list of decentralized services and applications. Some launched, and some will be launching soon. Below, we are studying some of them.
1) GhostMarket
A cross-chain incommutable market for tokens. Smart contracts help users to trade in this market.
2) Phantasma Pharming
Phantasma is a native, intermediate protocol designed to encourage liquidity providers in UniSwap and PancakeSwap. You will receive Phantasma tokens, i.e., SOUL and KCAL, on the main network as a reward by creating liquidity.
3) 22 Racing Series
This game is the first AAA blockchain-based game launched on Phantasma. This game offers a powerful combination of high speed, realistic physics, and strategy. In the gaming sphere, those games with considerable budgets of designing, production, and marketing activities can achieve a AAA grade, and this grade is not that much unavailable for the "22 Racing Series." In this game, users can build their favorite car from scratch or compete with prefabricated cars. Also, they can trade all assets, which are NFTs, through the Phantasma Chain.
4) The Gardens Between
Is a kind of adventure, a puzzle game that follows the story of two friends. They fall into the islands in a mysterious and beautiful world. In this game, players must manage time to solve puzzles and discover the secrets of each island.
Orientation of SOUL and KCAL coins

The Phantasma Chain governance token is SOUL, with an initial offering of 94 million units. Users and developers gain voting rights and use network resources by staking this token. To maintain and improve the Phantasma Chain network, the project team predicted 3 percent of annual inflation.
This inflation is used only to maximize the ecosystem's quality and create a sustainable incentive for developers to build decentralized applications. In addition, 125,000 $SOUL tokens are distributed monthly to eligible SOUL Masters. One out of the three percent inflation rate goes to credentials, one percent to the Phantom Force, and the remaining amount will spend for various incentives.
Using $SOUL brings some privileges for the network participants like; 
Ease of use and wide acceptance.
Paying a small fee in SOUL for each transaction is not efficient and realistic.
The Phantasma Chain uses a dual token system and the Soul, which uses the Phantasma energy with the KCAL symbol. KCAL is used to pay for transactions. KCAL can be received immediately and used in the Phantasma network by staking SOUL.
---
Conclusion
Phantasma is a scalable, fast, and interoperable chain that has innovated with Smart NFT technology. This blockchain with a dual token system can be an ideal option for developing decentralized applications and blockchain games and NFT and has had good cooperation in this regard. In addition, it is a carbon-neutral platform.